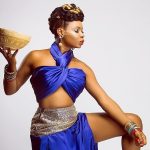 NIGERIAN MUSIC Star, YEMI ALADE Wins at America's 3rd Annual African Entertainment AWARDS…Nominated in FOUR Categories, Emerge Winner in All fronts
*Won in Category of: Best Female single, Best Female Artist of the Year, International Artist of the Year and her 'Mama Africa' for best album
*Receives Honor from New Jersey General Assembly for meritorious Record of Service, Leadership and commitment
*PLUS How she got official Invite to the 2017 Grammy Awards
BY GEORGE ELIJAH OTUMU/FOREIGN BUREAU
SHE IS BEAUTIFUL, CREATIVE, INTELLIGENT and lively. She is regarded Nigerian music star Overseas, especially in United States for her quality and meaningful music production. As such many were not surprised when YEMI ALADE, ever-smiling Nigeria songstress won all the four awards at the just concluded 3rd annual African entertainment awards USA, AEAUSA 2017 which held at Cicely Tyson community, East Orange, New Jersey in America on Saturday the 21st of October, 2017. The annual entertainment awards had the public voting for their favorite music stars from all over Africa with nominations announced for weeks.
This fashionable artiste, Alade was nominated in four different categories which led her to have the four awards at the event. She was nominated in the category of: Best Female single, Best Female Artist of the Year, International Artist of the Year and her 'Mama Africa' for best album.
Alade did not only win these awards, the New Jersey General Assembly commended her also being a member of the community and honored her for her dedication and relentless as well as for meritorious record of service, leadership and commitment. This was written in a notice signed by the speaker of the assembly, Dana M Burley and the Speaker of the General Assembly, Vincent Prieto.
For the records, Alade made Nigeria proud when she received an Official Invite to the 2017 Grammy Awards. On merit, the Grammy Award organizers extended an official invite to the Nigerian afro-pop music diva for the 2017 show many months ago.
Certainly, Alade, the African new school music sensation enjoyed phenomenal career success in 2016, dropping multiple hits that dominated the contemporary music scene across Africa. So elated, she posted on social media, her 2017 Grammy Awards Invite, which she captioned: "Just Got Mail" displayed the official Grammy invite and an accompanying envelope.